Sonia Saini About Her Latest Released Book And Her Thoughts About Self Publishing.
At what age did you start writing?
Writing was my passion since childhood and I wrote my first articles for my school magazine when I was in Class 5th.
Name a few authors/ books that you personally admire the most (Fiction/Non-Fiction). If you'd ever get to meet these authors, what is the one question that you'd ask them?
John Grisham, Jeffrey Archer, Anuja Chauhan, Khalid Hosseini, Khushwant Singh. If I ever meet any of them I would like to ask them how to keep motivating oneself to write more and more despite achieving success and fame.
One Superpower you wish you had?
I wish I had the power to beat time so I could travel more and visit my favourite destinations in least possible time. There is so much in the world to see and so little time. I wish I had the superpower to be at the place when I want for as long as I want.
What would be your one advice to aspiring writers?
My simple piece of advice is: Keep reading as much and keep writing. Let your thoughts flow. Write from the heart without thinking whether it would please the audiences or whether it would sell a million copies. Write what you feel for and believe in and have your own unique style of writing.
Do you have a writing ritual?
Well currently since my mind and heart is into too many things from work to home to being a mother, I do not have a disciplined writing ritual per se. However, while I was penning down Yours Legally, I used the morning time to write since I am a morning person and I feel a person feels most fresh as the day begins.
How did "Yours Legally" come to life? What/Who was your muse behind writing this book?
Well, this book is inspired by certain incidents and experiences I had during my days of internships and jobs in the legal field. These 6 incidents left a deep impact in my lives and I genuinely felt these had to come out in the literary world for the readers to get a new perspective on law. We all are interested in law but no-one wants to get into its technicalities. This book was not aimed at the people in this profession or the law students but in fact for all those who are not related to this field but are curious to know how this profession and the world of courts, judges, advocates, criminals and prison works. My own life is the biggest inspiration behind this book.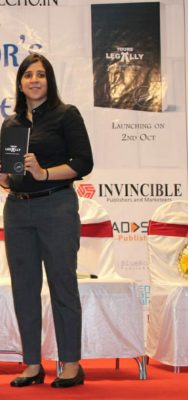 If there's one thing that most of the self-published authors vouch for, it's the mere fact that self- publishing teaches you all aspects of publishing? Is it true? What are your thoughts about the same?
Yes I agree, in fact I did the proofreading and editing of this book myself. With Self-publishing, you are involved from the entire journey of publishing the book from the nascent stages and its like you see a small embryo come to life. I learnt the nuances of publishing through this medium and I am grateful to BecomeS
hakespeare for being my mentor and guide.
What was your journey of writing your first book like? How did you feel when your book was released?
I
still sometimes cannot believe I am an author and that '
Yours Legally
' has been published and is being read and loved by so many people. When I was writing this book I never imagined it would reach so many readers though of course everyone dreams of it. But in my case writing isn't something I started later in my life. I have always been writing ever since I was a kid and no matter how many degrees I collected, becoming an author remained etched in my mind and heart always. To see my name on the cover of a book is deeply heartening and satisfying.
If you look back now, how has the whole experience of self-publishing been?
The entire process of self-publishing wherein you feel you are involved at every stage is amazing and satisfying. BecomeShakespeare has been at our side since the beginning and has helped and guided at each step and stage. Because of my experience, I continued my association and my second book was also published by them.
Your epitaph would read?
One of the few ones who lived her life solely her way and got whatever she set her eyes on.