At what age did you start writing?
It is hard to pin a number, but I began as a closet writer at a very young age. I had this habit of talking to my diary. That was perhaps the start of my writing phase. I can't really remember what went into it, but it was more or less my day to day happenings summarised on a weekly basis. I used to add my imaginary spice when my days were mundane. As a book lover, I have often wondered about what it takes to be on the other side and how wonderful it would be to connect with readers all over the world. I started reviewing books and was invited to join the panel of Muse India. I also began writing stories, poems, limericks, and articles. This was my transition phase. As my work started getting acknowledged, I decided to publish my book on yoga to reach out to a wider audience. "
My Friendship with Yoga
" took shape and was launched in 2017, at the
New Delhi World Book Fair.
Thereafter, I began writing "
Syra's Secret
," which was released on July 2019.
Name a few authors/ books that you personally admire the most (Fiction/Non-Fiction). If you'd ever get to meet these authors, what is the one question that you'd ask them?
I have quite a few favorites such as
Rohinton Mistry
(Fine Balance & Family Matters),
Mohsin Hamid
(The Reluctant Fundamentalist & Exit West),
Mirza Waheed
(The Collaborator),
Chitra Banerjee Divakaruni
(The Mistress of Spices & The Palace of Illusions). I also check out newer authors like Mindy Kaling. I admire Jhumpa Lahiri's style of writing and storytelling, both fiction and non-fiction. The one question that I would like to ask them is – "
Have you ever felt apprehensive that you might run out of ideas?
"
One Superpower you wish you had?
I wish I had the magical power of Mary Poppins!
What would be your one advice to aspiring writers?
Rejections are a part of the whole process of being ultimately accepted as a writer. Please do not give up, no matter what, and pursue your passion despite the roadblocks. Try not to succumb to this self-created monster, the so-called '
writer's block
', which I believe is a fragment of our own imagination. Think of the book lovers and connect with them. Write for them and the passion will always be with you.
Do you have a writing ritual?
Discipline and a relaxed frame of mind are very important to me. I have fixed hours when I am at my desk. Typically these are in the mornings and afternoon, sometimes at night. Reading is a very important part of the ritual of writing. When I am on a holiday I write whenever I feel inspired. I take a step back for a few days to assess my work.
How did "Syra's Secret" come to life? What/Who was your muse behind writing this book?
"Syra's Secret," was born out of sheer imagination visualized and written from the comfort of my room. Some of my stories were also penned at various times in various places – on the plane, by the pool, at a café. The muse was my own self, childhood memories and interesting people from across different cultures, whom I had met during my travels.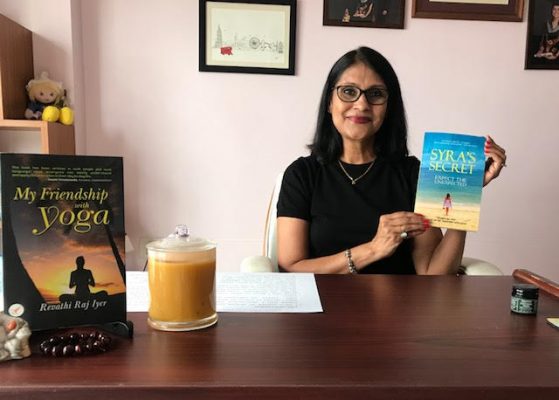 If there's one thing that most of the self-published authors vouch for, it's the mere fact that self- publishing teaches you all aspects of publishing? Is it true? What are your thoughts about the same?
"
My Friendship with Yoga
," was published in the traditional manner. It came with huge learning about the publishing process. For the past few years, I have been making my online presence via my Facebook Page, "Expression of Pearls" and my Instagram account. Hence, I had no hesitation to go along with the model suggested by BecomeShakespeare. With "
Syra's Secret,
" I realized that both aspects of publishing are good in their own ways. I think there are challenges in both the models, but the excitement and satisfaction are just about the same. The author has to be actively involved with the publisher at every stage regardless of the method of publishing.
What was your journey of writing your first book like? How did you feel when your book was released?
My first book was on yoga – "
My Friendship with Yoga
." Writing this book was more like talking to oneself, as I was passionate about both writing and yoga. I relentlessly pursued the option of traditional publishing and was thrilled when my manuscript was accepted by the Publisher. It was released at the New Delhi World Book Fair, amidst people from the literary circle and members from the Ministry of AYUSH. You can imagine how I would have felt!! Writing my second book – "
Syra's Secret
," was an equally awesome experience for me as I had fun getting into my characters, create situations with twists and an unexpected finale. I felt encouraged when two of my stories were published in
Woman's Era
and I must say that it is not easy to grab the attention of an editor of such an overwhelmingly popular fortnightly.
If you look back now, how has the whole experience of self-publishing been?
It has been an extremely joyful and satisfying experience, from start to finish.
Your epitaph would read?
I have left behind a few books, to remember me by 🙂
To grab a copy of 'Syra's Secret', click here.