At what age did you start writing?
I think I wrote for the first time when I was 16. I was going through a tough time so I wrote a poem to encourage myself. I know it was good because I snapped out of it in a jiffy. Blogging about my current mental state was healing so it became a habit. I remember scribbling at the back of my notebooks whenever I felt sad and lost. Writing soothed me and helped me get my focus back. When I started doing bigger projects for my career, I transitioned to blogging to calm myself down and keep me focussed. When my blogs became famous among my friends and university students, I was encouraged to write a book. So I published my first book at the age of 21- The Diary of A Young Blogger!
Name a few authors/ books that you personally admire the most (Fiction/Non-Fiction). If you'd ever get to meet these authors, what is the one question that you'd ask them?
Ayn Rand, hands down! I love her. My favorite book is Fountainhead. I can't get enough of that book. The only question I'd ask her is –
How do you manage to create such strong female characters?
One Superpower you wish you had?
Ability to Read and Write at the same time. I am either writing for months or reading for months. I think all my life I was reading to prep up for back to back books I was destined to write. I am already working on my third and fourth book.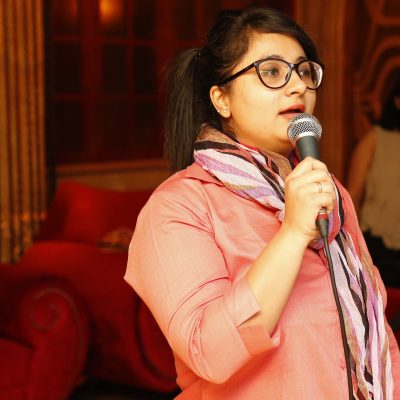 What would be your one advice to aspiring writers?
Just Do It. Take Action and Write. Stop Waiting. I have seen so many of my friends who are brilliant writers aspiring to be authors wait for the "perfect timing" and "idea" to write. There is nothing more inspiring than our reality and the world's reality to ink down our thoughts. I encourage many to just write regardless of the result.
Do you have a writing ritual?
Yes, if I don't cry at the end of it, I scrap it.
I have tons of diaries in my room with random content written on to it. It's all the discarded content that didn't create an emotional storm in my head after being poured out on a paper.
How did " Colored Lens " come to life? What/Who was your muse behind writing this book?
I have been working with thousands of women across India through the community I co-founded – Lean In India. Lean In is an online global community of women started by Sheryl Sandberg, COO at Facebook dedicated to helping women achieve their ambitions. Lean In India focuses on working directly with women on campus, corporate, and community spaces. It's a community of over 4500 women in India! My interaction with these women gave me an idea of their mindset and I made a storyline out of it to bring their stories to the world.
If there's one thing that most of the self-published authors vouch for, it's the mere fact that self- publishing teaches you all aspects of publishing? Is it true? What are your thoughts about the same?
Yes. I will definitely agree with that. This was my first-time self- publishing and I lived through the entire process. From designing the cover to having my people ink their love for my content in the form of acknowledgments and blurbs, everything about the process made me feel very special.
What was your journey of writing your first book like? How did you feel when your book was released?
This is actually my second book. My first book came out when I was 21, that's three years back. As always, it feels amazing and important when the book comes out.
If you look back now, how has the whole experience of self-publishing been?
It's been easy, convenient, and comfortable I'd say. It only took a couple of months to get published right after finishing the manuscript.
Your epitaph would read?
The question isn't who is going to let me. The question is who is going to stop me.
To grab a copy of 'Colored Lens', click here.