At what age did you start writing?
I remember I had started writing poems pretty early when I was in 5th-6th Standard. One of my poems got published in the magazine Kadambini (Published by HT media) much later and a few essays here and there.
Name a few authors/ books that you personally admire the most (Fiction/Non-Fiction). If you'd ever get to meet these authors, what is the one question that you'd ask them?
I am a big fan of Hindi literature. I have read authors from different parts of the world but the depth which Hindi literature displays is unmatched, at least it is no less than any other country or language. And not just Hindi, I am sure our regional languages too are equally rich.
Godan by Premchand, Rashmirathi by Dinkar, Shekhar Ek Jeevni by Ageyea and Love in the Time of Cholera by Gabriel García Márque are some of the books which I admire a lot. The brilliance of Premchand to get under the skin of characters and to sketch real-life scenes amazes me. He is no more but I was always curious that even after writing so many great books and stories, how could he write without the pretense of an author. It was like a person living that life and describing it to a fellow person as it's happening in all its honesty and integrity. I don't think anyone else could surpass that skill of his.
One Superpower you wish you had?
Each one of us is so full of unbelievable and colourful incidents even if one seems to live an ordinary life. If I could just get the most interesting incidents of any person by just touching him/her, I will have never lacked plot-points.
What would be your one advice to aspiring writers?
Write what you want to and make sure it's worth telling. The world doesn't have time to hear the same story again unless you are bringing your own unique style or content. Don't write what's easy to sell, write what you won't mind picking up from that airport-bookshop.
Do you have a writing ritual?
I wish I was more disciplined. Mostly I write around the mid-night when everyone is sleeping or at least has gone to their rooms so that I could have a room for myself even if I am not typing and just thinking about the next scene.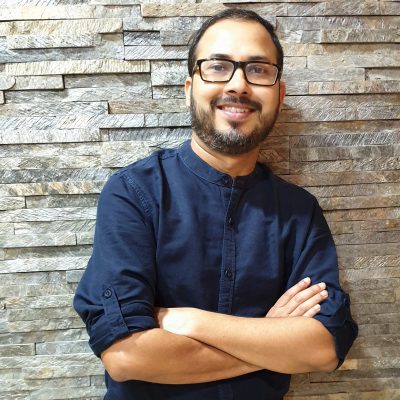 How did " Gulzariyat " come to life? What/Who was your muse behind writing this book?
The book took a shape during my MBA days of MICA, Ahmedabad. For our final semester, we were required to submit a thesis, the topic of which we were free to choose. It was here that I chose to do a thesis on Gulzar's lyrics since I was interested in his lyrics from my school days. This thesis I finally presented to Gulzar, almost 3 years later, that night at Prithvi Theatre. Same day around 9 pm my phone rang, and this call was like no other call which I had ever received. There was Gulzar himself on the line. He invited me over a cup of tea at his house and I couldn't believe my ears.
When I went to meet him, I talked less and listened more, being in awe of him. He didn't just say good words about my thesis but also arranged a publisher for me. The work on the book started then which after six long years finally took shape with a different publisher altogether, BecomeShakespeare.com.
Gulzar was gracious enough to mention our little encounter in the book titled "In the Company of a Poet: Gulzar in Conversation with Nasreen Munni Kabir."
If there's one thing that most of the self-published authors vouch for, it's the mere fact that self- publishing teaches you all aspects of publishing? Is it true? What are your thoughts about the same?
It's true. When you
self-publish
you trade-off reach in the favour of the control. It also helps you to start off your journey as an author which otherwise might not have ever been possible.
What was your journey of writing your first book like? How did you feel when your book was released?
This book demanded a lot of research and I remember I left it in the middle for 2-3 years. When I started again and was about to finish, one day I found out because of some technical glitch I have lost all the writing of the last year. I was on the verge of giving up but a voice in my head persuaded me to go on. I took one more year to finally conclude it.
If you look back now, how has the whole experience of self-publishing been?
Once I decided that I have to publish it even if my original publisher backed out, rest was smooth. It required effort but most of it was handled by BecomeShakespeare.com. I just had to be involved and make certain decisions to keep it moving.
Nothing can match the joy of seeing your name on the physical cover. It's like in a very tiny space of this online world you have become immortal. Even if you will be lost in oblivion, that one listing of the website would remain in your name.
Your epitaph would read?
His life was full of stories worth listening.
To order a copy of "Gulzariyat", click here.