At what age did you start writing?
I used to write short stories and poetry since I was in school. Emoting through words has always been my area of interest.
Name a few authors/ books that you personally admire the most (Fiction/Non-Fiction). If you'd ever get to meet these authors, what is the one question that you'd ask them?
My favorite author will always be Rabindranath Tagore. But I verily admire the works of Dan Brown, Sidney Sheldon and many more. If given a chance I would love to meet Chetan Bhagat, he is one of the few Indian authors who has seen the epitome of success.
One Superpower you wish you had?
To be invisible.
What would be your one advice to aspiring writers?
I believe authors should first concentrate on the quality, however, commerce is equally important. The journey of an author is full of ups and downs, but it's important to hold on. Stay consistent and keep practicing.
Do you have a writing ritual?
Writing is a therapy to me, whenever I am on my path of building a tale, I am completely into it. It becomes difficult for me to switch on and switch off, especially with the demanding job of a chemical engineer to cater to.
How did "Introspection" come to life? What/Who was your muse behind writing this book?
I always wanted to write about the importance of gender equality in the truest sense. I believe equality means equal opportunity, respect, and equal sharing. The building block of a gender unbiased society is laid when we raise our kids. Introspection which apparently is a story of love, passion, and emotions, aims at showing a mirror to the pseudo-intellectual society. It was there in my mind since forever but I started writing it in 2014 on an evening when I was feeling very low. Strangely that book liberated my thoughts and I am sure it will do the same to its readers. My husband's constant support and inputs made the writing journey more enriching.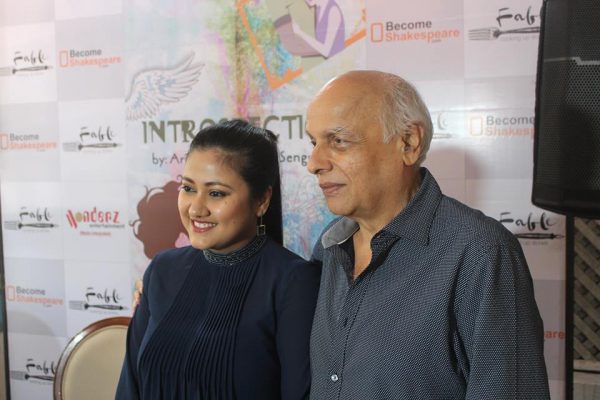 If there's one thing that most of the self-published authors vouch for, it's the mere fact that self- publishing teaches you all aspects of publishing? Is it true? What are your thoughts about the same?
My book was not self-published, in the true sense. However, it was a collaboration with the publishing house,
BecomeShakespeare.com
and me. They took care of the publishing process and took care of the promotion. However, the experience taught me a lot and I became more aware of the market and also the importance of branding. I have always been an emotional narrator, but it's also important to market your product for visibility. My learnings will help me do a better job of publishing my second novel, which will be released soon.
What was your journey of writing your first book like? How did you feel when your book was released?
The journey was magical and liberating, and the release felt surreal. Suddenly something that was personal becomes public property, subject to acceptance, criticism, and love. Like first love, your first book is always very special.
If you look back now, how has the whole experience of self-publishing been?
The collaboration was enriching and helped me learn a lot. I have evolved as a writer and also as a brand.
Your epitaph would read?
My epitaph will read 'A dreamer, a narrator, and a gypsy mind'.
I believe words can make a difference. In this era of social networking, creating a lasting impression is not easy as everyone has access to too much information. The journey is not very easy but the mantra is to keep moving ahead with passion and sincerity. My second book which I have named as 'Eos of the Infernal' will be another attempt to address another social issue, through a riveting tale.
To order a copy of 'Introspection', click here.