What was your inspiration behind writing this book?
I have lived in Chennai for many years during which time, I was captivated by the Annual Car Festival of Mylapore Temple. This festival is dedicated to 63 Nayanars, the Shaivite Saints, who lived between the sixth to eighth centuries. There was something timeless about the whole ritual that fascinated me. Thus, began my journey of researching their life stories. Basing my plot on the life of one of the earliest Nayanars, I began writing this piece of fiction.
Could you tell us a little about your journey, as an author?
I am an educationist and one of the reasons for my successful stint as a teacher was my story-telling sessions. The students' engrossment in my stories led to my writing, a passion that I discovered a few years back. My first work was based on a popular television show that garnered 137k reads and about 300 comments on a digital platform. This motivated me to write further. My other publishing credits which picked up overwhelming response on other platforms include "Tempest Love" a romantic thriller and "Wild Summer Echoes" a contemporary romance. "A Blue Moon Interlude-I & II" published by BecomeShakespeare is my first novel as a paperback and e-book.
What are some challenges you faced while writing your book?
There were three stages during the journey of writing the book; before, after, and while writing. Before I started writing, I had to search for a plot and once I got the plot, I had to research and gain access to translations of hymns that are mentioned in the story. While writing, I had to tie all loose ends of the narrative, and then after finishing the manuscript, I had to learn about the publishing industry and marketing. It has been a steep learning curve for me.
How did you come up with the title for your book?
Since the story is based on ancient mystery, I wanted to come up with something that would be intriguing to the readers. Hence, I decided on 'A Blue Moon Interlude'. Also, there is an important event that takes place in a village on a full moon night. So, the Moon plays a significant role in the story. Another factor is that when you translate the name of the protagonist, Nilagriva Chandra, it represents Blue Moon.
What is your writing process? Do you have a set routine, or is it a very organic process?
I write every day, at least 1000 words. That has been my routine since I started writing. I believe, writing like all other art forms, improves with practice. Hence, I dedicate at least two to three hours for writing and an hour for researching and reading.
What are some challenges you faced while writing your book?
The story is set in Tamil Nadu and at different timelines. So, the narrative goes back and forth in time and journeys to many villages in the state. Hence, it involved physical research along with text research. I traveled to these places to get the right authenticity for the story. Also, finding the ancient Tamil script of the songs of Thevaaram was challenging.
We love the cover design! could you tell us the concept behind it, and how your collaboration with our creative team was?
The design inside the square is a traditional art that Tamilians draw in front of their houses. It is an ancient form of art and the design is called Kanya Kolam. I wanted to depict something that resonated with Tamil tradition and the antiquity of the land. Hence, we came up with the kolam in the backdrop of a forest. I am thankful that I got to work with a very supportive creative team who guided me competently.
How would you describe your publishing journey with us?
It was a wonderful experience to publish with you and I am grateful that I found a very warm and friendly team, especially Miral and Pranali, who gave me appropriate advice at the right time and in the right direction. It has indeed been a pleasure to interact with such a prompt and efficient team. There has been tremendous appreciation for the book's quality, and I gratefully acknowledge the efforts of the publishing team.
What was your first thought when you won your first award?
I was pretty overwhelmed and had no words to describe the feeling. More than me, it was my family who was thrilled and proud. I was also delighted that my three years of dedicated writing and hard work had produced the intended result.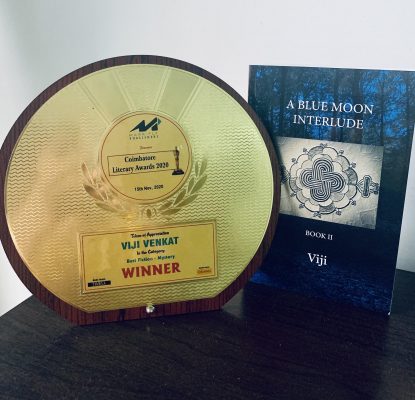 What does literary success look like, to you? Does winning an award inspire you to continue writing in the same genre, or are you inspired to explore different themes and genres?
Literary success was something that I had only dreamt of in my childhood. To win an award for something that I had created so sincerely is a powerful motivation to continue writing. The awards have convinced me to pursue my passion and inspired me to explore different themes and genres.
When would you advise authors to apply for awards? Are there any specific awards that aspiring authors should keep an eye out for?
All awards are wonderful and an acknowledgment of a job well done. When an author has written earnestly and is confident about the work, he or she can aspire for any number of awards.
What tips would you give aspiring authors, and what are some traps you would want them to avoid falling into?
Write as much as possible. I believe there are three P's that a writer has to follow; Plot, Perseverance, and Patience. The plot is an important factor for a story, and if one has the plot then the rest would fit around it perfectly. Writing needs a lot of perseverance. It is very easy to get distracted and lose focus. Hence, one has to be very perseverant. The author's job is not over even after completing the book. The hard work continues and one needs tremendous patience to wait for a positive response from publishers. Completion of a novel is an achievement by itself and if one has completed it, then the author has overcome the first hurdle. Do not give up hope and do not be disheartened by negative reviews. All creative works cannot be perceived uniformly. There may be contradictory views so accept them all as part of the learning experience.
Are you working on something new currently? could you tell us a little about it?
Yes, I am currently working on a fantasy romance, set in two parallel timelines. An unknown mystery links the souls born in eras set apart, lived in distant lands, and consumed by an indestructible flame. It is about an ancient prophecy of a love written on the banks of an immortal river and an odyssey through time in pursuit of a timeless secret. There is an elapsed era and a present era and communion in these eras produces different energies that in turn, result in varied consequences eventually.